La Poya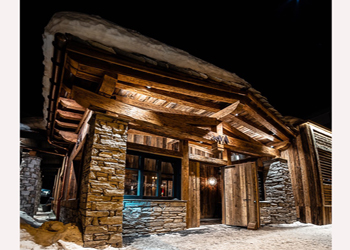 Galerie photos
The Bons Vivants Refuge.

Charles, the owner of this new establishment, has been running for many years with Brigitte his mother, a popular and well-known restaurant on the resort side of Le Fornet, Le Signal, whose reputation is second to none.

Charles decided last winter to "strike down" and settle down, at least in the evening, at the entrance to Val d'Isère.

He surrounded himself with 2 Savoyard chefs whose experience in the region is put to good use in this new table.

Loïc Renand, the executive chef, trained at Trois gros in Roanne, then second to Jean Sulpice in Val-Thorens in particular, and Anthony Vial, from Chabichou in Courchevel, compose a very refined mountain menu.

You can even see them "working" through large bay windows.

Here are some examples of their culinary vision of Savoie today to whet your appetite.

The poya pâté en croute with pork, veal, foie gras, pistachios and onion consommé served with pickled chanterelle mushrooms, the solid chuck of beef confit Mondeuse Rossini style with foie gras, melanosporum truffle, and for dessert, the "honey-themed childhood memories", with its "grilled" honey tile, its wild thyme panacotta, its honey ice cream, with a lime pollen siphon.

A beautiful list of selected wines is the perfect accompaniment to your culinary choices.

You will enjoy refined and tasty cuisine in a warm atmosphere and friendly and attentive service.

And what about the neat decoration, except that it makes this magnificent space for tasting and festivities want to come back.

A complete recipe for a beautiful evening.

A new table to discover, during a gourmet trip to Val d'Isère.
Contact details : La Poya
Charles
683, avenue de l'olympique
73150 Val d'isère

Info
- Seven days a week
- Dinner
- Open in winter only
- Open in the evening only
- Located on the left, at the entrance to Val-d'Isère


Cuisine
Top class
Traditional food

Les plus
- Fresh and seasonal products
- Local producers
- Creativity of the dishes
- Decoration
- Warm environment