Le Strato*****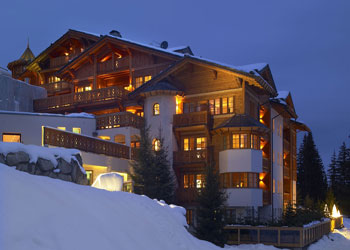 Galerie photos
In Courchevel 1850, where the world of prestige and luxury comes in the superlative, the family Laurent Boix-Vives offers another version: the ambience of a vast house, like a contemporary family cottage, a refuge, a comfort impressed of art of living and sweetness.

The menu of the restaurant, whose spectacular decoration is partly inspired by the Palace of Versailles, displays the color:
Nothing but the best, in all simplicity.

The Strato is the perfect place to take a break at any time of the day.
Baumanière 1850, and the Strato bar are a world apart in the hotel.

Thomas Prod'Homme, sponsored by Jean-André Charial chef and owner of the legendary Provencal restaurant L'Oustau de Baumanière two macaroons in the Michelin Guide, settles full time with his team, at restaurant Baumanière 1850 a macaroon in the Michelin Guide.

The promise of an unforgettable gastronomic experience.

He signs a map inspired by the Mediterranean, sometimes with a hint of mountain influence, but above all authentic.

The Baumanière 1850 map shows the color. Excellence without sophistication. A warm home cooking, the one we like in winter.

On the menu are specialties such as The potato José in black truffle dress, St Jacques de Dieppe, The sweetbreads, braised Mr Favrin salsify, yoghurt and black truffle.

The chefs implement the finest regional products: saffron Bauges, farm butter St Ours, walnuts, pear Comice de Savoie, potato José grown in La Pierre en Isere ... so to feed you with the greatest pleasure.

The intimate terrace offers a breathtaking view of the valley and Dent du Villard.

Tea time and hot chocolate at the tea room are particularly delicious.

A table of Courchevel 1850 which will make you rediscover Gastronomy.

Contact details : Le Strato*****
Famille Boix-Vives.
Restaurant Baumanière 1850
Route de Bellecôte
73120 COURCHEVEL 1850
Info
- Seven days a week
- Lunch, Dinner
- Open in winter
- Located Bellecote area
- Rooms and suites
- Spa - Fitness
- Ski room

Cuisine
Top class
Traditional food

Vizualize the menu

Les plus
- Refined luxury
- attentive service
- Starry cuisine
- 1 Macaron Guide Michelin
- The snack of the children