Les Airelles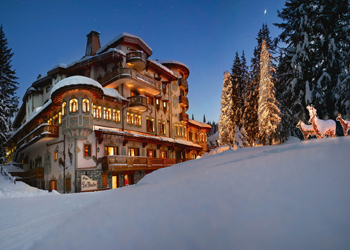 Galerie photos
The Palace Les Airelles undoubtedly embodies the promise of an unforgettable stay in a jewel of luxury and comfort.
It has a cozy bar and 3 restaurants.

- Pierre Gagnaire for Les Airelles.
Researcher, explorer and inventor of flavors, Pierre Gagnaire, the executive chef, infuses his team with his talent and fills gourmets with refined culinary creativity.

- La Table des Airelles brings up to date the fundamentals of French gastronomy while innovating, with, in addition to the classic menu, more vegan and organic dishes, and a beautiful variation of raw dishes, meats and fish.

At noon, Le Festin, celebrates a buffet paying tribute to the profusion, diversity and quality of its products like lobster, king crab, crustaceans ... and its fifty desserts renewed daily.
To savor in the dining room or on the terrace opening on the Alpine Garden.

- Piero TT, Chef Pierre Gagnaire's new creation, is adorned with Mediterranean notes thanks to the close collaboration with an Italian chef.

The card, colorful, scented and cheerful, was imagined and concocted by four hands by two talented chefs.
It is all the culinary heritage of Italy that is savored on the plates.

- Le Coin Savoyard restaurant offers deliciously traditional cuisine.

Discover local dishes such as fondue, raclette or crozets au gratin, cleverly concocted according to a historic and well kept recipe.
The products, cheeses and cold meats are carefully selected from the best producers in the region.
Contact details : Les Airelles
The Leading Hotels of the World.Label officiel «Distinction Palace»
73120 Courchevel 1850
+33 4 79 00 38 38
Info
- Seven days a week
- Lunch, Dinner
Official Distinction Palace Label
Luxury Restorations:
3 Restaurants
- Pierre Gagnaire pour La Table des Airelles.
- La Terrasse des Airelles.
- Le Coin Savoyard.
- Piero TT


Cuisine
Top class
Traditional food
Specialties

Vizualize the menu

Les plus
- Star chef.
- Luxury.
- Welcome and service.
- Diversity and quality of the cuisine.