Le Chamois d'Or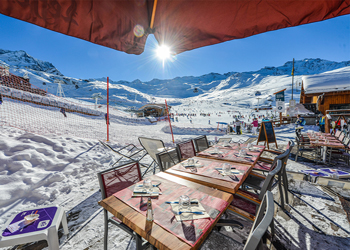 Galerie photos
Accessible by road, on skis, or on foot, and located on the edge of the slopes, Le Chamois d'Or will appeal to fans of good addresses.

The welcome, the decor, the atmosphere, the whole menu are ingredients that will make you spend a pleasant moment of relaxation and tasting.

The rustic and warm decoration, and the fireplace open to the kitchen set the tone from the entrance.

A dynamic team welcomes you in a warm and friendly atmosphere.

The chef will delight you with his varied and tasty dishes.

Its cuisine combines traditional dishes, specialties and discovery of the world of flavors.

He will make you discover the culinary specialties of the establishment such as the Veal chop, the Matouille, the Chamois d'Or salad, and many other things. »

The pizza maker will delight your taste buds with his hearty and colorful pizzas.

All the real flavors are there.

Facing south, the terrace, the highlight of the establishment is accessible by the slopes and by the road.

Its reception area can accommodate groups.

Le Chamois d'Or offers you a half-board formula so that you can enjoy your stay:

• 1/2 board 7 days: breakfast + dinner
• 7 Dinners: dinner only

Breakfast is in the form of a self-service buffet from 8 a.m. to 9:30 a.m. every day
Dinner consists of a starter, main course and dessert (drinks not included).

Le Chamois d'or, an address not to be missed in the resort !

Contact details : Le Chamois d'Or
Thérésa & Joêl
Rue du Soleil
73440 Val Thorens
Info
- Seven days a week
- Lunch, Dinner
- Open in winter
- Located at the foot of the slopes
- Open from 8:00 a.m. - 11:00 p.m.
- Non-stop service 11 a.m. - 11 p.m.
-Terrace
- Access on skis, on foot, by car
- Portable 07.61.95.71.00


Cuisine
Traditional food
Bar food
Savoy Specialties
Pizzeria

Les plus
- The situation
- Access
- The service
- South-facing terrace
- Half board formulas