Winter Café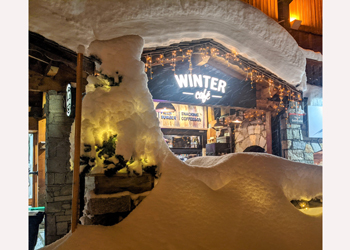 Galerie photos
Winter Café is open from 9am to 2:00 am without interruption.

Brave owners and their team!

And welcoming, which is not always the case wherever you go!

From the terrace or the door of the Winter Café crossed, Julien and Marie the owners, welcome you with a smile, not commercial, but sincere and friendly!

Among a very wide choice of pizzas, hamburgers, kebabs, paninis, fries, drinks ... ..you can order on the spot or take everything away ... .., except the crate naturally!

The Winter is also a "Nespresso Coffee Shop partner", with a wide choice of coffee to eat on the spot or to take away, WHAT ELSE ?

You can see his faithful lieutenants working, preparing your favorite dishes.

VERY IMPORTANT - Home delivery:

For those who do not want to move, by laziness or muscle soreness due to your exploits on skis, the Winter Café delivers on all the Val-Thorens station all that there is on the map, and that is saying little !

And this from 11h to 14h30 and 18h ​​to 00h

Even an aperitif can be delivered to you, never seen!

A clarification, the Winter Café is the only establishment to deliver on the whole resort, brave and very practical!

A tip: the Winter Café is a place to go!

There is even a terrace on one of the busiest streets of the resort, convenient to see the pretty girls and handsome boys.

Bon appetite, and do not forget: ALLO !!!

Contact details : Winter Café
Julien & Marie
Immeuble Les Glaciers
Rue de Gebroulaz
73 440 VAL-THORENS

Info
- Seven days a week
- Lunch, Dinner
- Open Winter-Summer
- Opening time :
- 9h to 2h00 without interruption
- On site or to take away or to deliver
- Delivery schedule : 06.47.09.70.58
- 11h to 14h30 and 18h ​​to 00h
- Coffee-shop "Nespresso"


Cuisine
Pizzeria
Snacking- Kebab - Pizzas - Hamburgers - Coffee shop

Vizualize the menu

Les plus
- Warm welcome & service
- Allo Aperitif
- Home delivery from 11h to 14h30 and 18h ​​to 00h
- Unique on Val-Thorens
- Late closing 2:30 am
- Terrace