La Cave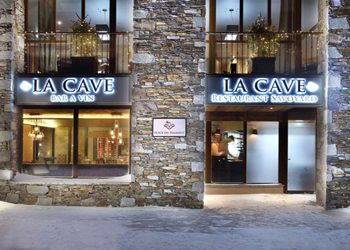 Galerie photos
LA CAVE, newest hotel restaurants Koh-I NOR ***** headed, the chief Eric Samson, awarded 2 times a macaroon Michelin offers a cuisine based on local specialties, made of carefully selected regional products.

The cozy atmosphere will allow great moments of conviviality around local specialties cooked with refinement from local products.

You will find the Savoy revisited recipes and innovative dishes with unexpected flavors.

This moment of relaxation will be accompanied deliciously of a wide selection of glass of wine offered.

What could be nicer than to be tempted by one of the 4 Magrez Grands Crus or a selected bottle in the cellar of exception ...
Contact details : La Cave
Les ETINCELLES
Le KOH I NOR*****
Rue de Gebroulaz
73440 Val Thorens

Info
- Closed on Tuesday
- Dinner
- Savoyard restaurant of the Hotel ***** Koh-I NOR
- Open the winter evenings only
- Establishment within walking distance and by road
- Service 7.pm - 10.pm

Cuisine
Savoy Specialties
Savoyard cuisine revisited

Les plus
- Selected regional products
- "Starred" chef
- Cozy and warm atmosphere
- Nice wine list