L'Atelier d'Eric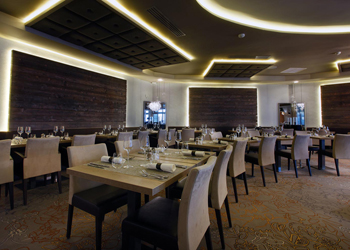 Galerie photos
L'ATELIER D' ERIC,l restaurant of the Hotel ***** Koh-I NOR, is located directly on the ski slopes .

Restaurant patterned carpets, printed leather on the walls, siding planks, treated ceiling with a cash valued by structures "padded"
for sound aspect, invites you to his table, in an atmosphere that the Koh-I Nor Image: cozy, warm.

Open only for dinner, the Atelier Eric reveals a unique 5-course menu and other suggestions, especially for appetizers and desserts.

Each day the Chef Eric Samson, twice awarded a macaroon Michelin selects for you high quality products, to offer you a sparkling and convivial kitchen.

It offers a kitchen with a large tinted diversity of influences acquired during his many trips abroad.

The kitchen is that place "to do something very tasty, very good but not necessarily with everyday products.

A table for your holiday!
Contact details : L'Atelier d'Eric
Les ETINCELLES
Le KOH I NOR*****
Rue de Gebroulaz
73440 Val Thorens

Info
- Seven days a week
- Dinner
- Restaurant of the Hotel ***** Koh-I NOR
- Open the winter evenings only
- Establishing access "skis" and by road
- Service 7.pm - 9.30.pm

Cuisine
Top class
Traditional food
International cooking

Les plus
- "Starred" chef
- Refined cuisine
- Cozy and warm atmosphere