Le Bistrot de l'Avenue Lodge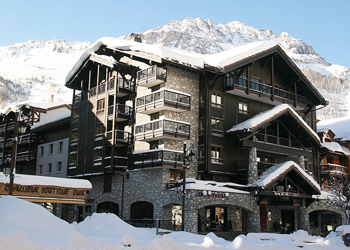 Galerie photos
Located on the most beautiful avenue in the resort of Val d'Isère, the 4-star hotel and its restaurant Le Bistrot de l'Avenue Lodge combine lifestyle, charm and modernity.

This jewel of the snow has something to seduce: Restaurant, Lounge bar, Large Salon and Spa area open to the public.

Come and enjoy an exceptional stay in the heart of the Alps.

Meeting point, the Lounge Bar of our hotel displays a cozy atmosphere by playing on volumes, lighting and a trendy design.

Come and relax over a hot chocolate, a tea after skiing or share a friendly moment with friends.

For your aperitifs, our bartender will be delighted to introduce you to a selection of great wines and cocktails.

A small catering menu is also available from 12:30 p.m. to 2:30 p.m.

THE LODGE AVENUE BISTRO

The restaurant welcomes you in a chic and comfortable space, conducive to relaxation and indulgence. The cuisine is fine and applied.

The bistro offers traditional French cuisine based on high quality products, enhanced by a wine list with very good references.

The restaurant, open to all, in the evening only, is adjacent to the hotel establishment.






Contact details : Le Bistrot de l'Avenue Lodge
Restaurant de l'Hôtel**** L'Avenue Lodge
Directrice : Louise Bouvier
Avenue Olympique - BP 80
73152 VAL D'ISERE-Cedex
Info
- Seven days a week
- Dinner
- Located in the center of the resort
- Open in winter only
- Restaurant open to all
- Lounge bar
- Concert every Friday evening from 6.30 p.m.



Cuisine
Bistronomic cuisine - High quality French products

Les plus
- A unique location in the very center of the resort
- Refined cuisine
- Lounge bar
- Hospitality and Comfort
- Quality services