L'Arobaze Café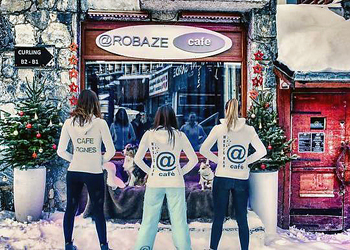 Galerie photos
You are in front of the front of the Arobaze café, in the center of Val-Claret… 3 young girls have their backs to you!

Above all, don't hesitate, push the door, inside it's even better, and from the front….
you will discover the smiles of a team at your service who will make you spend unforgettable moments in a warm and friendly atmosphere.

Sandra, the "mistress" of the place, with a touch of southern accent warms your heart even on the coldest days.

She makes you benefit from her great experience of the middle of the night.

Everything is implemented so that you spend an unforgettable moment of celebration.

The program is rich and complete.

From the après-ski, a multitude of hot and cold drinks will comfort you from your efforts on skis.

At aperitif time, a fine wine list accompanies some tapas and local delicacies, to the sound of music.

Sports enthusiasts can attend the many sports broadcasts offered by the establishment, in an atmosphere worthy of the biggest stadiums, thanks in particular to the many cocktails on the menu.

Every night, the resident DJ mixes in an atmosphere that has nothing to envy to the hottest evenings.

To find out more, all you have to do is come, the show is guaranteed!

Smiles, warmth, atmosphere, cocktails, music, festivity…..are the ingredients of this essential address on the resort for years, which it is forbidden to ignore!
Contact details : L'Arobaze Café
Sandra & son équipe
Immeuble le CURLING
Centre du Val-Claret
73320 Tignes
Info
- Seven days a week
-
- Open Winter - Summer
- from 4 p.m. to 2 a.m.
- Lounge Bar
- After-ski - Aperitif
- Sports broadcasts
- Live DJ

Cuisine
Cocktail Bar - Wine list - Tapas

Les plus
- Warm team
- Festive atmosphere
- Sports broadcasts
- Cocktail menu
- Resident DJ