Le Rok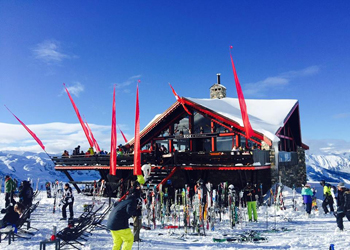 Galerie photos
ROK like nowhere else!

Access is from Méribel-Mottaret by the Pas du Lac gondola.
Get off at the first stretch, there you are!

Pedestrians also have access to this restaurant where it would be a shame not to go!

Once arrived, you are captivated not only by the exceptional view of the valley, but also by the atmosphere, and the unique welcome that is reserved for you.

Thierry, surrounded by a team of waiters and waitresses, all more friendly than the others, works in a jovial atmosphere, to make you share this moment of tasting and celebration.

It is not uncommon for charming hostesses to "hat" you with hats and the like ....

The Rok has a huge terrace overlooking the surroundings on which many deckchairs are welcome for a moment of rest and conviviality.

Inside, a room with large bay windows, with high ceilings, has a pleasant decoration that creates warmth and enthusiasm.

A nice musical playlist will accompany your meal, you must notably discover the essential "Burger Rok"!

A stay in Méribel without at least one visit to the ROK is not a successful stay.

Contact details : Le Rok
Thierry & his team
Intermédiaire de la télécabine du Pas du Lac
Méribel Mottaret - Saulire
73550 Méribel

Info
- Seven days a week
- Lunch
- Open in winter, everyday from 11 a.m. to 5 p.m.
- Accessible by ski and on foot for non skiers
- Access by the Pas du Lac cable car: intermediate
- Open in the evening for groups by reservation

Cuisine
Traditional food
Savoy Specialties

Les plus
- Exceptional view
- Terrace / Solarium
- Warm and original atmosphere
- Staff "at the top"