Au Schuss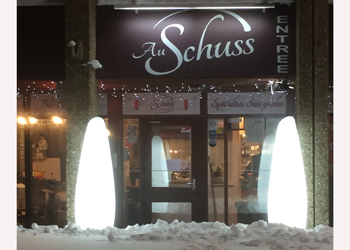 Galerie photos
Au Schuss : A warm welcome from 8:30 am, enjoy the many hot drinks and beautiful pastries to get off to a good start on the slopes of the ski area.

At lunchtime, an attentive team, led by Maryline and Thierry, welcomes you on sunny days on a magnificent sunny terrace, accessible on skis and on foot.

Many deckchairs are also at your disposal.

A beautiful menu of traditional cuisine in which you will be offered many seasonal dishes, à la carte, in menus, in formulas, all at attractive prices.

Lovers of home-made pizzas will be delighted, and "gourmands", delighted to taste the many desserts.

On bad weather days, and in the evening, it will be nice to sit down in a beautiful, warmly decorated room that reminds you that you are in the mountains!

All the regional specialties are on display with the highlight of the Fondue Savoyarde with Swiss Cheeses, a treat!

In the afternoon or after returning from skiing, recover from your efforts by tasting many pancakes, accompanied by drinks.

The service, let's not forget, is continuous from 8:30 am to 10:30 pm, which gives you time to appreciate the place!

You will have a "gourmet and friendly" moment!

Sports "fans" will be able to attend sports broadcasts.

Those in a hurry can take a menu with sandwiches and drinks to take away from the outdoor buffet.
Contact details : Au Schuss
Maryline & Thierry
Place Olympique
Résidence Les Lanchettes
73700 ARC 2000
Info
- Seven days a week
- Lunch, Dinner
- Open from 8:30 a.m. to 10:30 p.m.
- Winter only
- South-facing terrace 200 seats + Deckchairs
- Room 120 places
- Continuous service

Cuisine
Traditional food
Bar food
Savoy Specialties
Pizzeria
Food to take away

Vizualize the menu

Les plus
- Ski-in ski-out access
- "Mountain Spirit" decoration
- Non-stop service
- Takeaway
- Savoyard Fondue with Swiss Cheeses
50% Gruyère and 50% Vacherin
- Sports broadcasts