Plumes et Cassolettes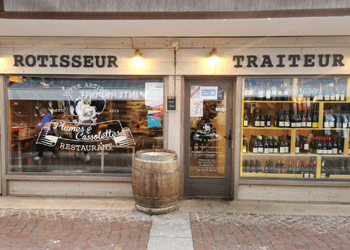 Galerie photos
Plumes et Cassolettes, an ideal address to enjoy fine and refined cuisine.

You will find the pleasure of exchanging with Pat, the boss, and a creative chef that you will have the chance to see working, and preparing your dish with fresh and quality products.

Homemade in a relaxed atmosphere!

The dishes are hearty, original, and the warm welcome reserved for you, means that fans of "eating well" come back regularly!

Randomly on the menu, the chicken curry, the hare à la Royale de Noël, the Gravlax salmon, the asparagus risotto, and the blueberry vacherin and the lemon meringue …… delight the pupils and the taste buds.

And what about the excellent wines on the menu that delicately accompany your selection of dishes.

This warm place, with an original and excellent menu, is a mecca for pleasure and gastronomy.

We feel good there, we eat well (very!), we come back………!
Contact details : Plumes et Cassolettes
Chez Pat
Galerie commerciale Cachette
Arc 1600
73700 Les Arcs

Info
- Seven days a week
- Dinner
- Open Winter – Summer
- Open in the evening
- Caterer – Take away lunch
- "Homemade" cooking


Cuisine
Traditional food
Savoy Specialties
Caterer - Rotisserie - Take away

Les plus
- Relaxed atmosphere
- Product selection
- Fresh products
- " Home made "
- To take away