Le 1928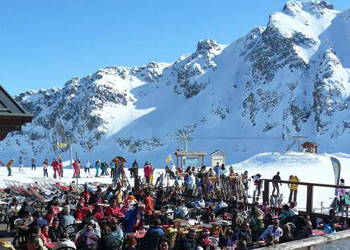 Galerie photos
Over the years we have been doing everything we can to maintain our culinary traditions and our mountain soul.

Welcome to 1928, ideally located at the crossroads of the 3 valleys:
The restaurant is accessible for pedestrians from Courchevel and Tania.

From Courchevel take the gondola Chenus.
From La Tania take the Tania cable car and then the chairlift Dou des Lanches and slide to the restaurant by the track of the Loze Pass.

The welcome we give our guests is warmest.
Simplicity, smile, kindness ... and cuisine based on fresh produce from local artisans, but also fresh fish and Savoyard specialties.

A moment of relaxation that you will appreciate.

Area :
The mountain is our life, the restoration is our passion.
A breathtaking 360º panoramic view with the culmination of Mont-Blanc.

A mountain chalet, a terrace bathed in sunshine, the 1928 welcomes you every day of the winter season for a real lunch break but also for a small stop before continuing your day of skiing ...

A new decoration awaits you this winter!
Welcome to Serge ...
Contact details : Le 1928
Serge Burnichon
73120 Courchevel
Altitude 2300m
Info
- Seven days a week
- Lunch
- Access:
Courchevel: Chenus gondola
La Tania: Tania gondola.
then chairlift Dou des Lanches.
- Open every day in winter
- Traditional service Non-stop from 9h to 17h

Cuisine
Traditional food
Bar food
Savoy Specialties

Les plus
- Beautiful panorama
- Family welcome
- Cuisine made from fresh products
- DJ animations