Le K2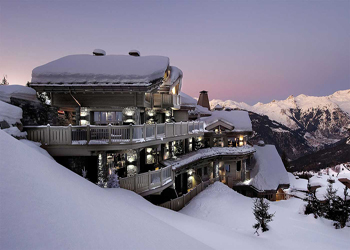 Galerie photos
The K2, five-star hotel, a luxury summit in the heart of Courchevel 1850.

A true hamlet of several luxurious chalets perfectly integrated in the landscape, three restaurants, the Kintessence, the Black Pyramid, and Sarkara under the baton of 2 chefs, Jean-Rémi Caillon and Sébastien Vauxion.

RESTAURANT KINTESSENCE

Unexpected sensations and original discoveries at the gourmet restaurant KINTESSENCE, chef Jean-Rémi Caillon unveils another universe
through dishes of a delicate precision, quintessence of the know-how and the creativity of an artist.

For dinner, the chef offers creativity and lightness, between French cuisine that pays tribute to seasonal products selected with the greatest demand.

The cellar of K2 is composed of wines from the greatest terroirs.
These are mostly tasted at the estate and selected with the utmost attention.

RESTAURANT BLACK PYRAMID

At the Black Pyramid restaurant, from breakfast to brunch, inventive buffets offer a privilege of sweet and savory flavors.

For dinner, Jean-Rémi Caillon and Sébastien Vauxion form a due of excellence and offer a gourmet cuisine menu consisting of dishes where precision and audacity are
the key words.

RESTAURANT THE SARKARA

The celebration of sweet flavors
A gourmet restaurant entirely dedicated to desserts and sweet treats.
Sébastien Vauxion offers his original and daring works every afternoon.
Contact details : Le K2
Le K2 Palace
238 Rue des Clarines
Le long de la piste de Cospillot
73 120 Courchevel 1850
Info
- Seven days a week
- Lunch, Dinner
- Open winter
- 30 bedrooms and suites
- 3 Restaurants:
- The Kintessence
- The Black Pyramid
- The Sarkara


Vizualize the menu

Les plus
- Comfort, luxury.
- Service without fault.
- Creative cuisine.
- The cellar and the Bar.
- Guide Michelin